Get Your E-Learning Design or Refine Services Guide Here
Got an e-learning course that needs the instructional design work done, but you are happy to build it? Got a project that needs refining or completing?
Our free E-Learning Design or Refine Services Guide explains how we can help.
..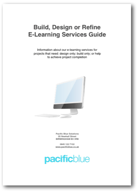 This guide is for you if you have an e-learning project that you need partial help with; either:
Getting your project designed
The guide gives you a whistle-stop tour of our basic philosophy around creating boredom-busting e-learning. What informs our thinking. Why we do it the way we do.
Getting a project refined or completed
It also covers some of the practical aspects of engaging us as your supplier to complete an e-learning project for you. The processes we typically use. How long it might take. What it's like working with us.
Fill in the form on the right and you can be downloading your copy of the project pack in seconds.